26
Sat
All-day
11:00 am
Bear Valley Farms Pumpkin Patch

@ Bear Valley Farms
Bear Valley Farms Pumpkin Patch
@ Bear Valley Farms
Oct 26 @ 11:00 am – 3:00 pm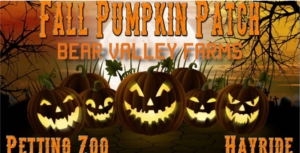 Bear Valley Farms Pumpkin Patch will open Saturday September 28th and will be open through Halloween! Come pick out a pumpkin and join us in our petting zoo and on our hayride! We will be open from 11am to 3pm on Saturdays through Halloween.
12:00 pm
49th Annual Big Bear Lake Oktoberfest

@ Big Bear Lake Convention Center
6:30 pm
Flashlight Safari

@ Big Bear Alpine Zoo
Flashlight Safari
@ Big Bear Alpine Zoo
Oct 26 @ 6:30 pm – 8:00 pm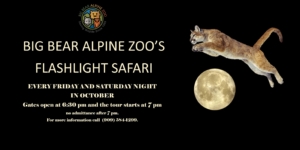 Each Friday and Saturday during the month of October (weather permitting), Big Bear Alpine Zoo will be hosting its Flashlight Safari, an exclusive tour which explores the more active side of our animals during twilight and dusk. Our first Flashlight safari will begin on Friday, Oct. 4. Doors open by 6:30 PM with no entry after 7 PM. BE PREPARED TO ARRIVE EARLY! Bring your own flashlights and dress warmly. Admission is $12 for adults, $9 for seniors (60+) and children from 3 to 10 years of age, and children under 3 years are free. Big Bear Alpine Zoo is at 43285 Goldmine Drive in Big Bear Lake. For more information on the Flashlight Safaris call (909) 584-1299 1299 or visit our Facebook page at Big Bear Alpine Zoo.